Most visitors to New York City inevitably end up walking along or near Central Park when exploring Manhattan. It's unavoidable when it's surrounded by so many wonderful things to see like museums and architecture. However, it's also important to acknowledge all of the wonderful things there are to do in Central Park, so here are my top 10 recommendations from a New Yorker (the best things to do in Central Park) who's been living in walking distance from Central Park for most of my adult life. Of course, safety first; don't be caught in there, after dark, in isolated areas. Remember that, although it looks like a forest, it's really part of a the larger, surrounding concrete jungle. Without further ado, here are the top 10 best things to do in Central Park New York City.
Best time to visit Central Park NYC
I think that one of the most amazing things about Central Park in New York City is that there's really no best time to visit Central Park; it is beautiful all year round, in every season! Of course, some things are open seasonally and others year-round, so check before you go.
My only caution is for visitors to not be caught unawares in Central Park after dark. Stay with the crowd and walk in well lit areas. Same precautions you should take when traveling anywhere, really.
---
---
Top 10 things to do in Central Park NYC (in no particular order):
Only 24 hours in NYC? Here is an itinerary for you!
Bethesda Terrace/Fountain
Get your camera ready to take some fabulous pictures! Located across from the 72nd Street Cross Drive, this iconic Terrace and fountain are not to be missed.
It is such a beautiful spot that it's even been featured in many famous movies, so you may recognize it immediately upon approach.
There's just something both beautiful and peaceful about this spot. And I especially love the juxtaposition of this location, surrounded by the park's trees, against the backdrop of the "concrete jungle" of the surrounding buildings. It's like no other view in NYC!
Recommended: Best views of the Manhattan Skyline for free!
Loeb Boathouse and Restaurant
Did you know that you can take a gondola ride in Central Park? That's right; you can also rent a rowboat. Talk about ROMANTIC!
After you tire yourself out from rowing, or after a long walk along the park, The Boathouse is one of my favorite eateries located inside Central Park where you can definitely stop to refuel.
This restaurant is not only beautifully situated right on the pond, but the food is out of this world (along with the prices, but it's worth it for a special treat).
Of course, it's always better to make a reservation since they are usually quite busy. NOTE: The best entrance is on 5th Ave., closest to 75th Street.
On a budget? Then I recommend that you bring your own food and plan a romantic picnic. There are too many wonderful spots to choose from, so you really can't go wrong!
Read this: Best pizza in Manhattan recommended by a Native New Yorker
John Lennon memorial
If you are a Beatles fan, then you must know that John Lennon and his wife lived right across the street from Central Park in a beautiful building named "The Dakota" (outside of which he was tragically killed in 1980).
This memorial is named after that famous song, "Strawberry Fields," and contains a beautiful mosaic inspired by his song "Imagine."
Believe it or not, you will still find fans leaving flowers and notes there honoring John Lennon.
I can't explain it, but you just have to go there to feel the palpable energy. NOTE: The best entrance is on Central Park West & 72nd Street.
The Carousel
Although it's not the original, there's been a merry-go-round in Central Park since the 1870s. I know that it doesn't sound that exciting…a few minutes ride, round and round (going nowhere) but there's just something sweet and nostalgic about riding the Carousel.
I also love the view of the surrounding area. NOTE: It's basically located smack dab in the middle of the park, so you can get to it from either the East (5th Avenue) or West side (Central Park West), closest to 65th Street.
Conservatory Garden
If you are willing to venture uptown, the Conservatory Garden is, in my opinion, one of the most magical places in Central Park.
So, it comes as no surprise to learn that it's very popular for special occasion pictures (such as a wedding, prom and sweet sixteens).
I even took some of my own wedding pics here! It was so perfect you'd think that we were standing in front of a green screen or fake backdrop.
You first enter directly from 5th Ave. (between 104th and 105th Streets) through the gorgeous Vanderbilt gate.
This garden not only contains beautiful flowers and trees, but there are wonderful sculptures, fountains and even a pergola. There's so much there to see!
Just be mindful that it's one of the few places in Central Park that's officially designated as a Quiet Zone. And please, no photo bombing.
Read this: Where to find the best cheesecake in New York City
Harlem Meer/Dana Discovery Center
If you are willing to venture even a little bit further uptown, on Central Park North (110th Street) and Lenox Avenue entrance to the Park, there's a lake called the Harlem Meer.
Many an afternoon I have found myself walking along the lake because it's so relaxing (and near my apt.).
There you will also find a cute little structure known as the Charles A. Dana Discovery Center. This structure may be small, but there's always a lot going on, in terms of activities, and you can even borrow a fishing pole (but remember that they practice "catch and release"…but I wouldn't want to eat what I caught anyway).
Along with the renovation, a small plaza was built where there are many fun events that take place throughout the year. My husband and I once took Salsa dance lessons there and we had a blast.
BTW, the Discovery Center is also an information center for the Park where you can get a lot of useful information.
Belvedere Castle
If you've ever been to Shakespeare in the Park, then you've definitely seen this structure in the background. There you will find a visitor's center and a gift shop, along with an observation deck.
Funnily enough, although the original structure is quite old (built-in 1869) it was never a "castle"…it's more like a mini-castle and yet it's touted as safeguarding the "highest" views of the Park, along with previously providing most of the Park's weather information from its tower.
NOTE: It was recently undergoing renovation in 2018 and, if it's not reopened yet, should be soon.
Regardless, it's a fun place to find your inner princess, or knight, and let your imagination run wild (along with your pictures). NOTE: It's in the middle of the park, closest to 79th Street from the East side (5th Avenue) or 81st Street from the West side (Central Park West). Here you will also find a link to track its renovation.
Billy Johnson Playground
I don't know who Billy Johnson is, but my nieces and I love the 45 foot long, curving granite slide!
It was just recently renovated, along with an addition of a smaller granite slide for the younger kids for which I'm grateful (b/c they just made the line longer).
I really don't know what our record number is for the most times we've slid down during a single visit, but it's up there.
The lines are usually long, but we don't care. It's the thrill of sliding down that keeps you coming back for more. NOTE: Enter from 5th Avenue and 67th Street.
Another Favorite: Best things to do in Dumbo, NY
Amphitheater/Delacorte Theatre
There's always something happening in Central Park, but two of my favorites are musical performances at the Amphitheater and Shakespeare in the Park.
Attending such an activity in the Park takes planning and sometimes a little bit of luck, but it's well worth the effort.
Whether it's events like Summerstage, Philharmonic concerts, Metropolitan Opera performances or Shakespeare in the Park, they are free so you can imagine how crowded they can become.
If you can't get a ticket/seating, no worries. You can always sit near the venues, on the grass, close your eyes and just listen.
Central Park Zoo
If you love animals, then you've come to the right place. Along with all of the regular wildlife running around Central Park (birds, ducks, squirrels, etc.), this Zoo has lots of fun and interesting animals such as sea lions, penguins, goats, leopards, llamas and much more.
I'm also impressed with their work in preserving wildlife and the earth, and not just in NYC. Their conservationists work all over the world.
Lastly, there are shows and other attractions, including a 4-D movie experience I refuse to miss whenever I'm there.
You may think that it's only for kids but, as an adult, it's still one of my favorite places to visit in the Park. Below is a site with all that you need to know and you can sign up for a 10% discount.
BONUS: If you happen to be visiting NYC during the winter holidays, Central Park has several ice skating rinks, including one of my favorites called Wollman rink.
Most people only think of Rockefeller Center when it comes to ice skating but Wollman rink (which is only about 10 blocks away) is not only less expensive, the ambiance with the trees and, if you are lucky, the snow, just takes my breath away (along with the ice skating, of course).
NOTE: Enter via 59th street (on 6th Avenue) and follow the signs.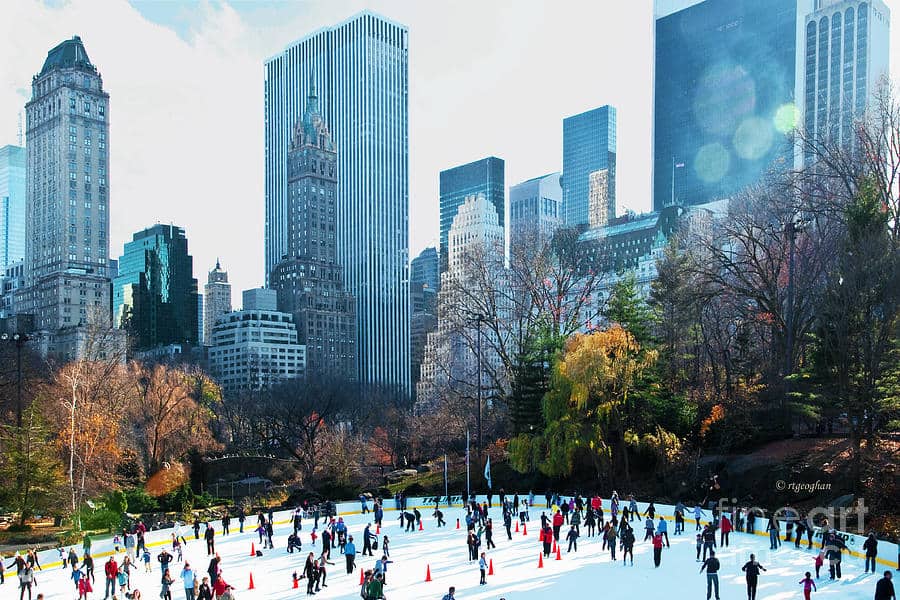 BTW, afterwards, I usually walk over to 59th Street and Central Park West where, during the holidays, there are vendors selling holiday wares and food.
I usually go straight for the hot chocolate to warm up, sit down and continue enjoying the views of my beautiful Central Park.
Suggested Reading: Christmas in NYC: Top Things to do during your winter holidays in New York City
Hope that you are inspired to visit Central Park!
This list with the best things to do in Central Park could go on and on with lots of other great locations to check out in Central Park but as the saying goes, 'All good things must come to an end.'
While this is true of my list, this just isn't true about Central Park. There are events and activities all year round and there's something for everyone!
Just throw some bug spray, suntan lotion, a snack and water, maybe even a good book, and go and explore Central Park for yourself. Everything you'll need to know can be found on their amazing website.
---
This is a contribution from Olga Maria's best friend, Denise LJ. A native New Yorker – true Nuyorican (born, raised and still living in NYC). Proud wife and momma to a beautiful kitty cat.