Chernobyl, or properly spelled in Ukrainian Chornobyl, is a place that still haunts me to this day, which is why I finally decided to write about my experience. Exploring Chernobyl's exclusion zone on a day trip from Kyiv (Kiev), Ukraine over two years ago was an experience I could never forget.
For many Europeans, Chernobyl is a memory of terror and death, something that they truly lived through. But there are many others, around the world, who've only learned about it from TV, documentaries or books, and I can include myself in that later group. The questions about the ghost cities of Pripyat and Chernobyl, and of the Chernobyl disaster, always remain the same: What's Chernobyl like now? Is it safe to visit Chernobyl? What happened to the people who used to live in Chernobyl? In this post, I will try to answer these questions as much as possible.
As I am publishing this, I am sure that many more of you are now aware of, or have become more interested in, the Chernobyl Exclusion Zone since it's become more mainstream. This increase in tourism over the years is not a secret (with thousands of visitors per year) and now, with the Chernobyl documentary on HBO (which I've recently watched), more people understand the deeper story of the 1986 disaster and are researching about how to plan a visit to Chernobyl themselves.
Why did I visit Chernobyl?
Let me start by clarifying why I visited the Chernobyl Exclusion Zone in the first place. Well over two years ago, I was invited on a two week tour (I extended my trip and stayed longer) around different parts of Ukraine. I partnered with Cobblestone Freeway Tours to learn more about the most underrated country in Europe with the largest territory, Ukraine. I was so immediately fascinated by Ukraine, that I ended up consequently renting an apartment in Lviv, Ukraine and living there for several months. After the experience, I consider Ukraine to be one of my favorite countries and I even keep returning periodically for several months at a time… it's like a second home to me.
You might also like: Why you should visit Lviv, the soul of Ukraine!
Anyhow, through this opportunity, Cobblestone Freeway arranged a day tour for me to visit Chernobyl from Kiev, since I'd always been interested in the Chernobyl tragedy for a long time, having read about it years before. There was something important about visiting Chernobyl and seeing, with my own eyes, the place where the 1986 disaster had occurred.
I do know that there are many Ukrainians and Europeans that will never visit the Chernobyl exclusion zone, since it is a place of horror, sorrow and death. But as much as I respect that, dark tourism is also about the historic value and lessons, and I do respect each site I've ever visited, including The Nanjing Massacre Museum in China, The Killing Fields in Cambodia, the Mauhautsen Concentration camp in Austria, or the 911 Memorial in my dear New York City, among others. Many still will haunt me and probably will for the rest of my life and yet, I can't regret the experiences. History is not always pretty, so it's better to remind ourselves of important lessons learned along the way, many of which are the results of difficult and dangerous situations, or even horrific events. But it's the world's history nevertheless, and to be part of this world means learning about both sides of it, the good with the bad.
Chernobyl Location: Where is Chernobyl / Chornobyl?
Chernobyl, or Chornobyl, is a ghost city in the restricted Chernobyl Exclusion Zone, situated in the Ivankiv Raion of northern Kiev Oblast, Ukraine, near Ukraine's border with Belarus. The Nuclear power plant where the explosion happened, named Vladimir Ilyich Lnin, is really closer to the city of Priyat, another ghost city.
Recommended: Insider tips for the most underrated country in Europe, Ukraine
Is it safe to visit Chernobyl?
The first question anyone asks me, after learning I've been there, is: "Is it safe to visit Chernobyl?" And my answer is always, "Yes, it is safe to visit Chernobyl." Since there's minimal radioactive exposure for the places where tourists are taken to, that's no longer a concern, but everyone should always follow the rules, dress appropriately and take certain precautions (more on that later). Actually, the time you spend visiting Chernobyl exposes you to as much radiation, or even less, than a flight from the USA to Europe.
Chernobyl was deemed safe for tourists in 2010 and opened for first time to visitors back in 2011. You can visit Chernobyl as a tourist but there are areas that are still restricted, since they haven't been properly cleaned up or they still have higher levels of radiation. So, there are still places that you are not allowed to visit or where you can only stay for short periods of time.
As a method of precaution, you are also screened before you visit and checked for radioactive particles when you leave. Over 60,000 tourists visited Chernobyl last year and underwent these precautions without resulting in any negative health outcomes.
Can you visit Chernobyl without a guide?
No, you cannot visit Chernobyl without a guide, since everything is regulated. You have to keep in mind that you are actually entering a military zone, which is controlled by the government.
How long can you stay in Chernobyl?
If you are really interested in visiting, I would personally suggest going on a Chernobyl day tour from Kiev, like I did. There are also recent options available for overnight stays, if that's your preference. For me, one day was enough and I got to see quite a lot.
Two hotels opened there, The Hotel Desiatka and the Hotel Pripyat, but you cannot expect typical service and standard facilities from these hotels, only something basic. Where they built the hotels, the radiation levels are the same as being in Kiev, Minsk or Moscow, so visitors are safe to stay there. Plus, the food and drinks are brought directly in from Kiev for safety reasons.
Day Tour: From Kyiv (Kiev) to Chernobyl
Initially, a tour van picked us up from Kyiv (Kiev). Keep in mind that you can only visit with a licensed tour and that they need to register you in advance. They will need your full name, copy of your passport, and possibly more, so that you can obtain approval to enter the Chernobyl Exclusion Zone. As previously mentioned, the whole area of Pripyat and the Chernobyl Nuclear plant are a military zone, so you can only walk with your tour guide and go to specific areas; other areas are strictly prohibited. In addition, even though Chernobyl is more mainstream now, there's truly no risk for the potential of experiencing overtourism because the visits to Chernobyl are still regulated by the government.
While on the road, my tour arranged by Cobblestone Freeway Tours, played a video documentary explaining about the Chernobyl explosion and giving you facts about what happened in 1986. Our group was watching it in silence, while the van bumped along due to not so great road conditions from Kiev to Chernobyl.
When I first arrived to the Chernobyl exclusion zone, after a 90 minute ride, it was like going through immigration at an airport. Filming, or the taking of pictures of the area, or of the guards and staff, is strictly prohibited. Also, our tour guide obtained a Geiger counter, which you can also rent, that gives you information about any radioactive particles found in the zone and reads the contamination levels of the area.
First stop on our Chernobyl Day Tour was for Food! – Lunch time at Chernobyl Canteen
Our first stop was at the Chernobyl's Canteen 19 to have lunch. The Chernobyl's Canteen is inside the territory of the Chernobyl Nuclear Power Plant.
Wondering about the food? The food was quite delicious and healthy, made with ecologically clean products. First, there was a hot dish, a second course with a side dish, a salad, dessert and an optional drink. It was all quite tasty!
Tip: They also make this stop for you to use the toilets, since there are not as many accessible during other parts of the tour. So, I would suggest for you to use the facilities before you leave to resume the tour.
My experience visiting Chernobyl Exclusion Zone
When I visited Chernobyl, I felt so many emotions from shock, to perplexity, to sadness, at seeing the abandoned city of Pripyat. Standing so near to radiator 4, the one that exploded, and thinking inside about the community of Pripyat and Chernobyl who not only had to worry about their health but also had to evacuate their homes in less than one hour, being told that they could later return. I can't begin to understand how they endured all of the pain from losing family members, or members of their own community, so tragically.
It's unimaginable all that they've had to suffer, not to mention the long term effects that resulted from exposure (including periodic deaths, cancer, and many other illnesses) due to the high levels of radiation in the air, which only served as a constant reminder of this tragedy. This is something that affected Ukraine and even beyond the bordering locations, the whole Europe, since the air spread it to other countries and the rain affected much food and water along the way. A lot of people from that generation have gotten sick over the years and have died young. It is a catastrophe and a tragedy that probably could have been avoided or managed differently but, most importantly, it's something that we must learn from for future generations.
Evacuation of Pripyat, Ukraine
The Evacuation of Pripyat, and the community experience, is hard to stomach and something I cannot even write about since I did not experience it. Plus, you can find tons of historical information online, or by watching a documentary. All I can say is that, honestly, having read about it before my visit, and having recently seen the mini series on HBO, I experienced more chills that I thought possible, or expected. Especially after having been there in person, standing in some of those horrific places inside the ghost town of Pripyat – the Chernobyl exclusion zone – it was like I'd only dreamed of visiting, but no. I'd been there and relived my visit again and again, a little like being haunted.
What about the people? Where are the people now who evacuated Chernobyl and Pripyat?
If you're wondering about those who were victims of the Chernobyl disaster, most were evacuated to places around Kiev and Zhytomyr in Ukraine. A lot of the victims remained alive, while others have died of cancer and other breathing/pulmonary conditions before even reaching 40 years of age.
There are approximately 140 people who returned to live in Chernobyl, since this was their land, and they insisted on being there. We used the Geiger counter to check some areas and for the most part, it reflected around 0.22, when 0.3 is actually considered a dangerous area (from what I was told by the tour guide). Regardless, after what happened there, they are still taking a risk by choosing to return to live there, but it is obviously a personal choice.
What was visiting Chernobyl like?
I still remember clearly that day, exploring the Chernobyl exclusion zone. You'll find abandoned villages, houses, tons of trees, some good roads, but other roads are deteriorated so that you have to walk off the beaten path through muddy areas.
After watching the Chernobyl series, I was in shock, going back through my memories, of being inside the hospital, school, old hotel, in front of the Chernobyl reactor that exploded, around the Pripyat ferris wheel, and more. It was as if I'd just visited yesterday.
You can see how so much was left behind and there are things all over the grounds, but that's no surprise when learning that people thought that they'd be returning shortly.
I do suspect that some things, like creepy dolls on the floor, might be staged for photo purposes and/or to make the tours more attractive but, regardless of this, as a travel journalist, I truly wanted to visit Chernobyl and see it with my own eyes and perspective.
Overall, it is a very dark place, especially when you truly learn about the history of Chernobyl and it's people. If you are not familiar with it, I encourage you to learn more. It definitely impacted me deeply, especially now after having seen the TV mini series and remembering how I was just standing there a few years ago (a little over 2 years). Seems almost surreal now.
Safety Tips and Chernobyl Dress Code: What to wear when visiting Chernobyl Exclusion Zone?
When visiting Chernobyl, you will be walking around abandoned buildings, so there will be glass on the floor, many places left damaged and desolated over time so, for your own safety, Chernobyl does enforce a dress code and there are certain safety precautions to keep in mind:
1. You must wear closed shoes
As you probably imagine, there are many piercing objects everywhere on the floor (since the disaster area was evacuated within 50 minutes), so people left most things behind. It is a rule obviously to protect your feet and not run any risk of visitors being injured while walking around.
2. You must wear long pants and long sleeves shirts
They required for you to wear long pants and long sleeves shirts too; no shorts, or dresses allowed. I did not have long sleeve items with me, since it was summer, so I wore a jumpsuit with a sweater over it. Remember, this is a way for you to protect your body from being exposed to anything from the surroundings.
NOTE: When I originally visited, the long pants and closed shoes were highly enforced, but not as much as the long sleeves. I visited over two years ago, and it was quite hot. Most people in my group removed their sweater, including me, and we did so knowing the risks involved. This is why, in most of my photos, I do not have the sweater on. But nowadays, there are more checkpoints and security, so I recommend that visitors wear long sleeve shirts, or a sweater, as directed by the Chernobyl staff.
3. Visitors are not allowed to sit anywhere or to touch objects around the Chernobyl exclusion zone.
As mentioned above, anything there can still carry radioactive particles. So, do not put things on the tables, floors, or around, nor should you pick anything up. Note: They can keep any items that they remove from you, especially if they are having trouble washing off radioactive particles. Leave your valuable items behind; you do not need to have them with you for this day trip, so leave them at your hotel or in the van, if necessary.
4. Do not pet any of the animals you will find around Chernobyl.
There are over 300 stray dogs around Chernobyl since people had to leave them behind. The workers care for them, but they most likely have radioactive particles on them.
While I was there, we also saw a fox. They all look healthy and friendly, but you never know if they have radiation on their fur. Better to be safe than sorry.
5. Keep in mind, you can only eat inside the Chernobyl's Canteen
This is to avoid your ingesting any radioactive particles inadvertently.
6. Bring some basic travel essentials, as needed.
It will be best to bring with you items such as a bottle of water, snacks, hand sanitizer, wipes, etc. Whatever you do not need, you can leave in the van, so you do not have to be carrying too much stuff around while exploring the Chernobyl Exclusion Zone.
7. Do not venture out on your own.
Stay with your tour guide at all times and do not venture alone in restricted areas. Stay on the main pathways and do not go to the forest to touch the trees, etc. A lot of the trees are covered in radioactive particles still, since the trees were more difficult to totally clean up.
8. Watch where you walk!
There can be glass and/or sharp objects on the floor, holes, uneven pathways and more. It's totally abandoned and you must look where you walk and stand. You are more at risk of getting hurt by stepping onto an object than from the radiation.
GENERAL TIP: While gratefully I did not experience any issues during my visit to Chernobyl, I always suggest getting good travel insurance wherever you go. It is better to have it just in case, than to be without it in a time of need. It's worth the expense, and you are worth it too.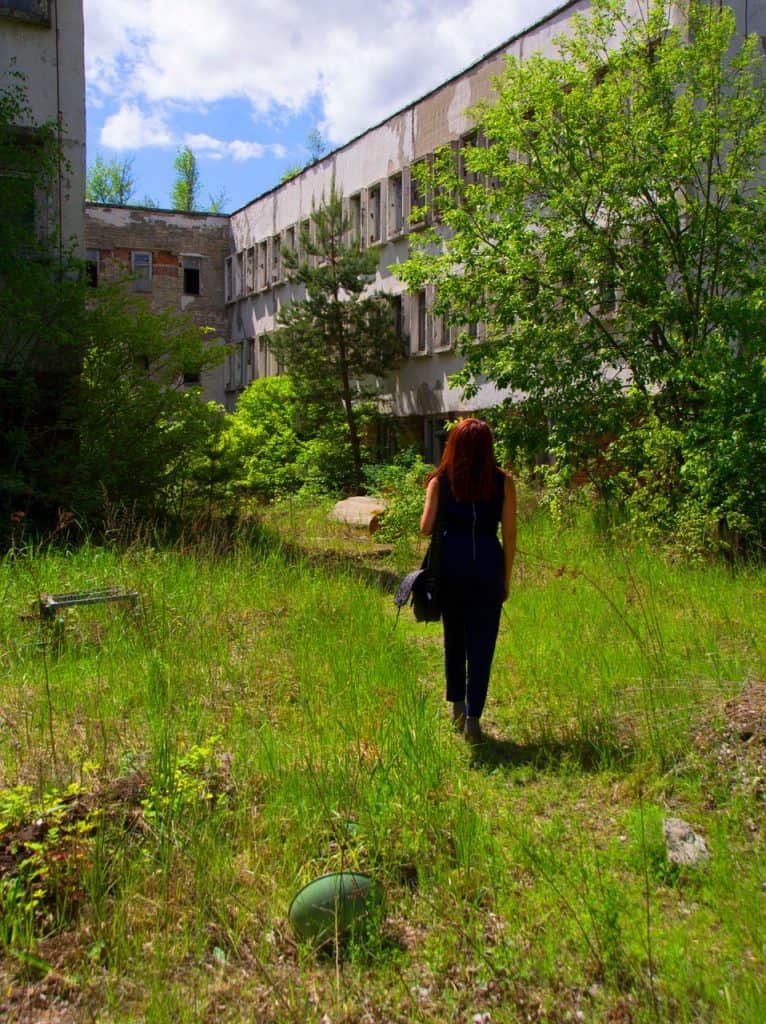 Chernobyl Dark Tourism – What not to do while visiting Chernobyl
As with any other memorial or place of tragedy, suffering and disaster, we must respect and behave accordingly during our visit. Keep in mind all of the people that sacrificed their lives and suffered during this huge catastrophe. This is not a fun place, but a real life tragedy that ended up killing many people in silence (since you cannot see radiation in the air) and most people did not even know what was really happening, or the full consequences of all, until it was too late. Basically, be respectful always.
How much does a Chernobyl Tour cost?
Costs for visits to Chernobyl vary based on the length of your stay. It could be anywhere from $100 up, depending on the arranged tour and length. I would suggest reaching out to a company like Cobblestone Freeway Tours, who are experts in all things Ukraine and have been organizing tours around the country for a long time. Better to benefit from their expertise.
My Chernobyl Exclusion Zone visit Highlights:
Duga Radar (The Russian woodpecker) – Soviet over-the-horizon radar system
While exploring inside the Chernobyl exclusion zone, a place that was a total highlight for me to see in person was The Duga, also known as The Russian woodpecker. The Duga is a place that not only many people did not know much about, including me, but also a place that in the past was prohibited to visit. Not every day tour to Chernobyl necessarily stops there, but it was quite interesting to learn more about it through my tour. And if you are wondering now, what is Duga, let me explain.
The Duga was used as a part of the Soviet missile defense early-warning radar network. It is a system that operated from July 1976 to December 1989, and it is 210 meters in width by 85 meters in height.
If you have not figured it by now, the reason people called it The Russian woodpecker was because of the noise that it made. You could hear a loud and repetitive noise that was so strong and powerful, it interfered with radio receivers. It was very interesting to learn about this piece of history.
The abandoned ghost city of Pripyat
As you probably imagine, the city of Pripyat was quite impactful and shocking. Walking around the residential area of Pripyat, going inside the apartment buildings where people used to live, going inside the hospital and seeing all of the empty hospital beds, and then especially with all of the property lying about, seeing the baby nurseries, the school in Pripyat, the ruined theatre, posters around all covered in mold, the abandoned swimming pool and gym area and, the most iconic location of Pripyat, the Pripyat Theme Park area with their famous ferris wheel…. very fascinating yet eerie at the same time.
Pripyat Amusement Park with the Iconic Pripyat Ferris Wheel
Did you know that the Pripyat Theme Park was never officially open to the public? It was supposed to open on May 1, 1986, but the Chernobyl Radiator 4 Explosion occurred on April 26, 1986, so the theme park was never opened.
You can still see the isolated Pripyat theme park, the ferris wheel and all of the other abandoned games, when visiting Chernobyl.
Summary of what to expect – Last thoughts before you go to Chernobyl
Overall, as previously mentioned, always keep in mind that you are visiting a disaster zone which is abandoned, and do not forget to bring with you basic essentials. Do not expect to find accessible restrooms after the canteen, neither Wi-Fi nor shops, so pack a small bag with whatever you really need to have with you.
Watch where you walk and do not lean on anything or put your things around. When they scan you at the end, if they find any radioactive particles, they might need to wash them but anything, like your clothes or any items that have been contaminated, can be taken from you before you are allowed to leave the Chernobyl Exclusion Zone. I've heard many stories of people who had to leave their clothes or shoes behind, so it can happen to anyone.
Tour operators also recommend for you to take a shower once you return to Kyiv (Kiev) and to wash your clothes. Keep all of this in mind during your visit. I don't mention this to worry you about being safe when visiting, but you still need to take precautions wherever you go, especially in a place like the Chernobyl Exclusion Zone.
I hope that this post has provided insights and enough tips for your visiting Chernobyl safely. It was a tragedy with historical significance enough to really make it an unforgettable experience.
Have you ever been to Chernobyl Exclusion Zone? If yes, I would love to hear about your experience, any tips you have for visitors that I did not mention above, and why you chose to visit.
If you haven't been, I hope this article answered your questions and helps you to plan your own visit.
Enjoyed reading this post? Save it for later on Pinterest!