There is a really good chance that this post contains affiliate links. If you click through and make a purchase, I may receive a small commission (for which I am deeply grateful) at no additional cost to you.
So, you've never attended a Renaissance Fair? Then you definitely don't know what you are missing. A Renaissance Fair is an outdoor gathering set as if during medieval times (not to be confused with specialty restaurants). Not only is it like you are stepping back in time historically, there's good food, drink, games, beautiful handmade wares to buy and fun times to be had. Here is a complete guide to attending a Renaissance Fair, including what to wear and where to find the best Renaissance Festival costumes.
Here's what you need to know before you go to a Renaissance Fair
You do not need to dress up in garb (costume), but it's more fun if you do.
Think of the Knights of the Round Table, Henry the Eighth, Queen Elizabeth the First of England, etc.  If you ever dreamed of being a Viking, Pirate, or Romeo & Juliet, then this is your chance! 
Any of the above is exactly the vibe you should be invoking in your wardrobe. Don't stop short there…this magical land also welcomes fairies, wizards and elves (oh my!). Now's your chance to dress up, even though it's not even Halloween.
Wondering what to wear? Tips on where to find Renaissance Fair Costumes
If you are looking to purchase some garb prior to attending (helps you to get in the spirit of the day).
First, I found some cool and simple outfits for women that can be worn more than once on Amazon Fashion. It is all about how you accessorize them. Check them out:
---
---
---
---
---
---
Here are a few online vendors that I also like:
1. Moresca Clothing & Costume
My personal favorite is Moresca Clothing & Costume, because I actually became engaged at a Renaissance Faire and even purchased my wedding dress from them in the "style of" the Renaissance!
2. Pearson's Renaissance Shoppe
Pearson's Renaissance Shoppe is a great place to purchase elegant and unique renaissance clothing for ren faire attendees.
3. Candy Apple Costumes
Candy Apple Costumes, which are less traditional garb but you may find something you prefer. And you can also find items on Amazon.
NOTE: Regardless of what you wear, it's important that you dress appropriately. You will be walking A LOT and usually, Renaissance Fairs are in a field so there's everything that goes along with that. 
Be comfortable, wear light fabrics (since you'll be outside), and we recommend a hat at the very least or if not bring or purchase a funky parasol from one of the vendors to protect you from the sun and don't forget your sunscreen (and maybe bug repellent).
Save money by purchasing your tickets in advance
If you buy your tickets in advance you will benefit from the discount (just more money to spend there). Most Renaissance Fairs have a website where you can pre-purchase tickets and learn more about the schedule of events, vendors, parking information, etc. 
NOTE: Oftentimes, there's a free parking area and a "paid" parking area available.  REGARDLESS, do NOT forget to note where you've parked. We've driven many a friend around the lots looking for their car. Not fun!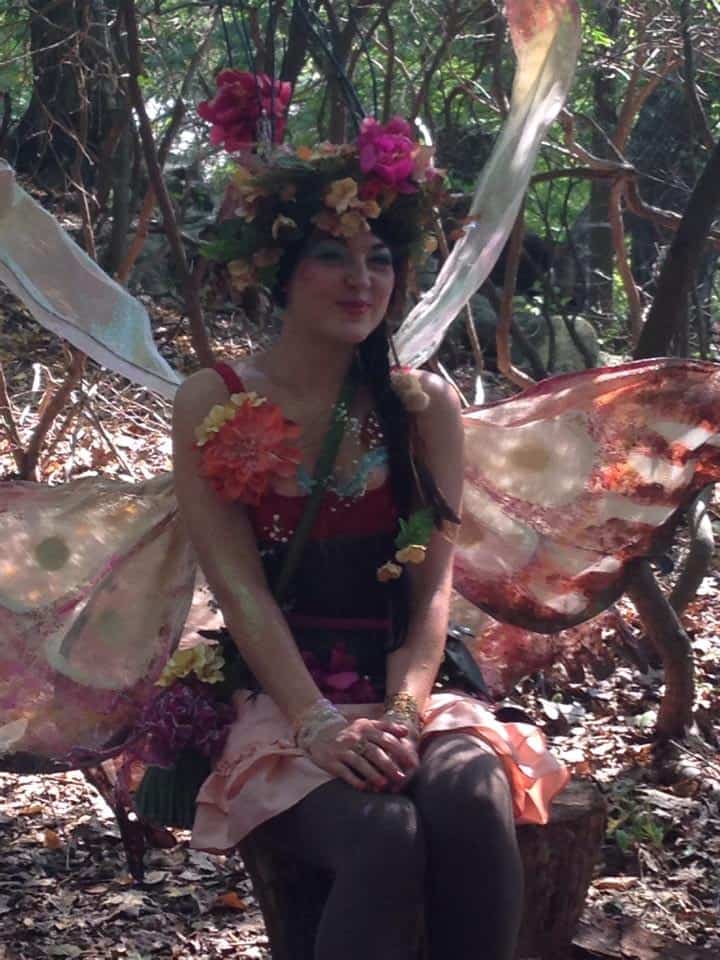 Bathroom situation
The one hindrance of attending a Renaissance Fair is the bathroom situation. Regardless of where I am, I hate porta-potties (portable toilets).  They are usually too small, smelly, too hot and, to make matters worse, there's no opportunity for flushing. 
The fair that you attend may have one flushing privy (bathroom), if you're lucky, but prepare to wait in long lines. So, in anticipation, make sure to also bring: Hand sanitizer, wipes, and there's a magical spray called "Poo-Pourri" which is the best invention since the wheel. It helps mask the smell (surprisingly) well and long enough for you to get in and out. 
NOTE: You would spray in the bowl before you go. I know, sorry if this is grossing you out, but I'm keeping it real!
Plan your experience based on your interests
Upon arrival, make sure to pick up a map and the schedule for the day which tells you what to find where and when, and can really help you to plan your experience based on your interests.
Shopping opportunities at the Renaissance Fair
Bring money (cash or credit) for shopping. Believe it or not, you can definitely get some retail therapy at a Renaissance Fair.
There are lots of specialty vendors, some of the most common include: Clothing and Weaponry, Jewelry (especially hand-made pewter goods), traditional Toys, etc. 
You may also find items befitting the Renaissance time. For example, for those ladies who choose to wear a corset or strong bra, this writer purchased a "boob chiller" which is actually something that's made of pewter and looks like a shot-tube that you fill with cold water, place it between your boobs and it keeps your core temperature down. 
When it gets warm, you can even go back to the shop and they will empty and refill it for you!  What service! And on a particularly hot day, you will definitely appreciate your boob chiller (actual name).
Another Favorite: Best Budget Shopping Spots in New York City!
Always bring some cash for the food & drinks
You will also need money (Cash only) for all of the yummy goodies there are to eat and drink! 
Some examples include, Turkey legs, Steak on a Stake (steak on a "stick"), pickles of all flavors, beef jerky, cheesecake on a stick (usually chocolate dipped), dragon chips (long potato chips), mead (honey wine), beer (craft beers), etc… There's no chance of going hungry at a Renaissance Fair.
NOTE: If you love donuts, you will always want to come back for more.  There are freshly made donuts everywhere, in all different flavors too.  Sometimes you will smell them before you see the vendor. Don't miss out on this sweet treat! 
PRO TIP: Make sure to save cash for food purchases since ATMs may have high fees attached.
Watch a show
Make sure to take in a show while you are there. Think Shakespearean play meets comedy troop. The proper term is "Commedia dell'arte" and it is so much fun! 
There are usually several shows a day, at different times, that you can choose from. AND they are FREE! So, you can see one, or see them all…up to you.  BUT you definitely do not want to miss the jousting tournament.  Every "real" Renaissance Fair has one.
Want to have your fortune told?
Take a peek into your future? Well, you've come to the right place then! There are usually many psychics to choose from, usually congregated together in one place. Don't be afraid…it's all in good fun!
Don't be surprised if the language around you sounds foreign
Don't be surprised if you feel as if you don't understand what is being said around you. Oftentimes, there are many acting troupes hired to interact with attendees and they will not only be in character, but will all be speaking in "Old English" and may even be playing a historical figure. 
So, what are some of the common Old English terms that you need to know? Here are a few: Good morrow (good morning), privy (bathroom), m'lord (term for men), m'lady (term for women), wee folk (children), etc. 
AND you will not find them using any modern devices such as cell phones.  They are great for setting the atmosphere for you to imagine as if you've gone back in time to the Renaissance Period itself.
When does the Renaissance Fair's festivities end?
Usually, festivities end after sunset (which in the summer can vary but usually is around 8pm-ish). So, this is when your planning is most important, especially if there were specialty goods that you wanted to purchase. Make sure that you give yourself enough time to do and get everything from this experience!
Here are a few of the most common Renaissance Fairs on the East Coast:
NOTE: The Sherwood Forest Faire in Texas is one of the largest Renaissance Fairs on the east coast.
8. Cloisters in Fort Tryon Park, NYC
There's also a mini-Medieval Festival held every fall season at the Cloisters in Fort Tryon Park in Manhattan (NYC).
Farewell thoughts…
I hope that I've inspired you to find your inner medieval character and attend a Renaissance Fair for yourself. There's lots to eat, drink and see (so you won't be bored) and you won't know what you are missing until you attend your first one. 
WARNING: Don't be surprised if you end up wanting to make this an annual outing. I've been attending Renaissance Fairs for 8 years now; they are never boring and always a good time is had by all!
This is a guest post by Alisha H
Alisha is a New Yorker who's always been intrigued by magic and whimsy.
Enjoyed reading? Save it for later on Pinterest!